Infrared Exposures of New York City
Imfrared pictures were taken with a Nikon D700 which was converted by Optic Makario exchanging the internal IR-pass filter. This standard filter is blocking the infrared rays above 700 nm, it is mounted directly in front of the sensor. Allowing to pass visible light from 400 nm to 700 nm. This IR-pass filter is removed and replaced by a IR-pass filter blocking all wavelengths below 720 nm.  After this change the sensor captures only IR wavelengths from 720 nm to 1100 nm which are invisible to the human eye.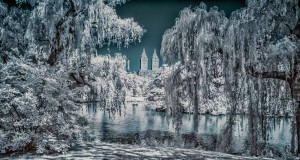 Pictures were taken in New York, Central Park with a Nikkor 24 mm. Aperture was 8 because above you can get IR-hot-spots. The picture was set-up from three exposures -1/0/+1 f-stop which were combined to a HDR. Finaly the blue and red chanels were switched.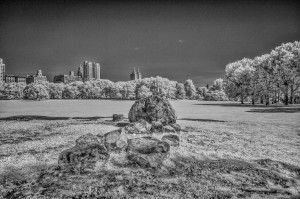 With the same Camera set-up but converted into black and white.

[google-map-v3 shortcodeid="1c8b9989″ width="350″ height="350″ zoom="12″ maptype="roadmap" mapalign="left" directionhint="false" language="default" poweredby="false" maptypecontrol="true" pancontrol="true" zoomcontrol="true" scalecontrol="true" streetviewcontrol="true" scrollwheelcontrol="false" draggable="true" tiltfourtyfive="false" enablegeolocationmarker="false" enablemarkerclustering="false" addmarkermashup="false" addmarkermashupbubble="false" addmarkerlist="New York central park{}1-default.png" bubbleautopan="true" distanceunits="km" showbike="false" showtraffic="false" showpanoramio="false"]