If it rains in New York you will get wet.
If it rains in NYC it rains hard in summertime. You won't get a taxi, there are thousands but all are occupied when it rains.
You could be prepared carrying an umbrella but if you are an optimist you left it at home. So you will buy one for 5$, a small, ugly weak toy-like umbrella and add it later to the box with the other dozens you bought in the past when you got cached by a thunder storm.
But for all this you get rewarded by the rainy scene, when everything is wet and lights are reflected in the streets.
New York city is most beautiful during a rainy night.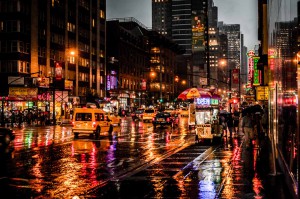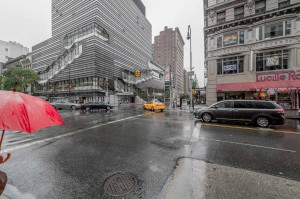 A selection of photographs can also be
found on www.ralf-kayser-photo.com
[google-map-v3 shortcodeid="d168ad5b" width="350″ height="350″ zoom="12″ maptype="roadmap" mapalign="center" directionhint="false" language="default" poweredby="false" maptypecontrol="true" pancontrol="true" zoomcontrol="true" scalecontrol="true" streetviewcontrol="true" scrollwheelcontrol="false" draggable="true" tiltfourtyfive="false" enablegeolocationmarker="false" enablemarkerclustering="false" addmarkermashup="false" addmarkermashupbubble="false" addmarkerlist="New York 42nd Street{}1-default.png{}New York 42nd Street" bubbleautopan="true" distanceunits="miles" showbike="false" showtraffic="false" showpanoramio="false"]