In Nepal findet man Moderne und Tradition Seite an Seite. Traditionelles Leben vermischt sich mit modernen Elementen. Das Straßenbild ist geprägt von einer Vielfalt. Diese wird sowohl von Armut und Reichtum geprägt wie auch vom Glauben und geschichtlicher Herkunft. Europäische und amerikanische Lebensweisen fließen in das doch noch sehr deutlich traditionell geprägte Leben der Bevölkerung.
In Nepal you will find the influence of the modern world and the tradition side by side. Traditional and modern life is creating a mixed lifestyle. The streets show a multi-cultural view. The street view is stamped by poverty and wealth and as well from religion and history.
European and American lifestyle influencing clearly the obvious traditional life of the population.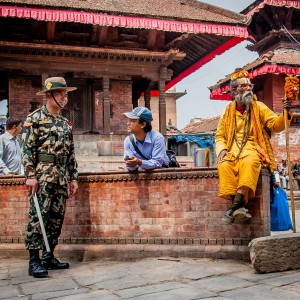 [google-map-v3 shortcodeid="1f32d078″ width="350″ height="350″ zoom="8″ maptype="roadmap" mapalign="left" directionhint="false" language="default" poweredby="false" maptypecontrol="true" pancontrol="true" zoomcontrol="true" scalecontrol="true" streetviewcontrol="true" scrollwheelcontrol="false" draggable="true" tiltfourtyfive="false" enablegeolocationmarker="false" enablemarkerclustering="false" addmarkermashup="false" addmarkermashupbubble="false" addmarkerlist="Nepal Kathmandu{}1-default.png" bubbleautopan="true" distanceunits="miles" showbike="false" showtraffic="false" showpanoramio="false"]