Der Salar de Uyuni ist ein Salzsee in Bolivien. Es ist eine einmalige Szenerie. Die Salzdecke ist zwischen einigen Zentimetern und mehreren Metern dick. Es ist ratsam den Fahrspuren zu folgen. Abseits kann man einbrechen. Das kann bedeuten dass man nur stecken bleibt oder komplett im See versinkt. Man hat den Eindruck einer unendlichen Ebene. Mitten in der gleißend weißen Wüste ist Fisher Island eine kleine hügelige Insel auf der Kakteen wachsen. Der Salar de Uyuni ist ein Muss für Bolivienbesucher. Eine Gletscherbrille gegen das helle Licht und Koka Tee gegen die Höhe sind zu empfehlen.
Lithium Vorkommen haben einen Streit entfacht zwischen Rohstofffirmen und Naturschützern ausgelöst.
The Salar de Uyuni is a salt lake in Bolivia. It is a very special and unique scenery. The thickness of the salt layer is between few centimetres and several meters thick. It is a good advice to follow the traffic lane. Off road you could break through. It is possible to get stuck or even to drown completely in the lake. If you are looking towards the horizon you get the feeling of an endless plain. In the middle of this glistening white desert you will find Fisher Island. It is a small hilly island covered with hundreds of cacti. The Salar de Uyuni is a must for Bolivia visitors. Snow goggles against the bright light and some coca-tea for the height are recommended.
Some Lithium which was fond in this region has led to a struggle between conservationists and commodity companies.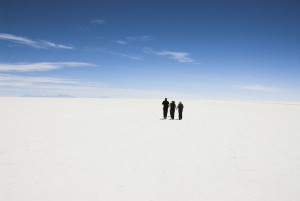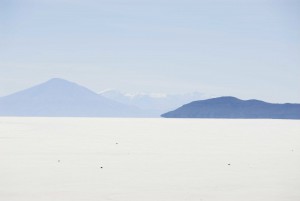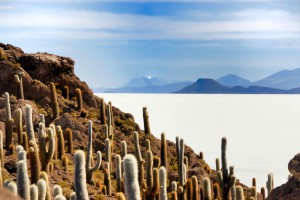 [google-map-v3 shortcodeid="1df186a7″ width="350″ height="350″ zoom="7″ maptype="roadmap" mapalign="left" directionhint="false" language="default" poweredby="false" maptypecontrol="true" pancontrol="true" zoomcontrol="true" scalecontrol="true" streetviewcontrol="true" scrollwheelcontrol="false" draggable="true" tiltfourtyfive="false" enablegeolocationmarker="false" enablemarkerclustering="false" addmarkermashup="false" addmarkermashupbubble="false" addmarkerlist="Bolivien Salar de Uyuni{}1-default.png{}Salzsee und Fisher Island" bubbleautopan="true" distanceunits="miles" showbike="false" showtraffic="false" showpanoramio="false"]